Happy Release Day to Leylah Attar and her new book THE PAPER SWAN! Enjoy a sneak peek into the book below and make sure to enter the giveaway! This is a MUST READ to add to your TBR!
♥Buy the Book ♥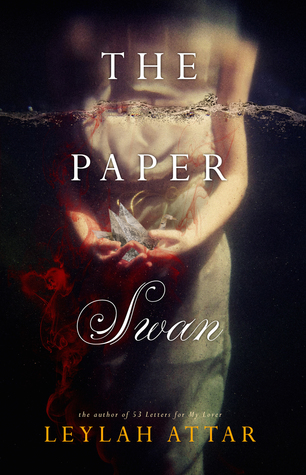 They say it takes 21 days to form a habit.
They lie.
For 21 days she held on.
But on Day 22, she would have given anything for the sweet slumber of death.
Because on Day 22, she realizes that her only way out means certain death for one of the two men she loves.
A haunting tale of passion, loss, and redemption, The Paper Swan is a darkly intense yet heartwarming love story, textured with grit, intrigue, and suspense. Please note: This is NOT a love triangle.
A full-length, standalone novel, intended for mature audiences due to violence, sex and language. Subject matter may be disturbing for some readers.



Sandy B's Review
Leylah Attar has crafted a gripping love story that will drag you to the lowest of the lows and lift you to the highest of the highs. It grabbed me by the throat from page one and did not let go until the very last word on the page. I absolutely LOVED IT! I laughed, I cried, I railed at the injustice of two innocent children paying the price for choices that were not their own.
Skye (the boss's daughter) and Esteban (the housekeeper's son) grow up together. He's the ying to her yang. Though the class distinctions are clear, these children share a strong emotional bond. Soon they are torn apart by circumstances beyond their control. The wheels of revenge are now set in motion. We meet Skye again as an adult on the night of big birthday party. Unfortunately, for her, at the time she's on her knees with a ruthless killer holding a gun to her head.
You may think you have a good idea about what's going on here and that this is going to go the way it usually goes in these kind of stories. Well, I have news for you - you are wrong. Very wrong. The characters are complex, the story layered and the ending is masterful. I don't want to give too much away because I think it's best to go into this blind. The Paper Swan has a strangle hold on my emotions even days after finishing it.
Here is one of the many lines that I love from this book - "You can either choose love or you can choose hate, because where one lives, the other will die." As you get into The Paper Swan you will feel the full import of those words.
I am obsessed with this author. I am in awe of her skill. Her timing is flawless and her pacing takes us along for a hell of a ride. I will not soon forget the story of Skye and Damian. Trust ME you won't either.
Leylah Attar writes stories about love - shaken, stirred and served with a twist. When she's not writing, she can be found pursuing her other passions: photography, food, family and travel. Sometimes she disappears into the black hole of the internet, but can usually be enticed out with chocolate.